Judges and Director Bio
Tulalip Tribal Court Chief Judge Ronald J. Whitener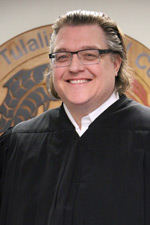 Ron J. Whitener is Chief Judge of the Tulalip Tribal Court, a Justice on the Northwest Intertribal Court of Appeals, the Chehalis Tribal Court of Appeals and the Upper Skagit Tribal Court of Appeals. From 2009 to 2013, Judge Whitener served as the Chief Judge for the Confederated Tribes of the Chehalis Reservation. Judge Whitener is a member of the Squaxin Island Tribe, located in South Puget Sound, where he grew up and continues to participate in treaty fishing and as the Squaxin Island Commissioner of Business Affairs. Judge Whitener worked for Squaxin Island in their Natural Resources Department prior to going to law school. He graduated from the University of Washington Law School in 1994 and returned to Squaxin as a tribal attorney representing the tribal government in treaty rights defense, tribal governance, tribal court development, gaming and other enterprises. In 2000, he joined the Northwest Justice Project's Native American Unit in Seattle where he represented Native American clients in federal, state and tribal courts. In 2002, he joined the University of Washington Law School as an Assistant Professor where, with funding and support of the Tulalip Tribes, he formed the Tribal Court Public Defense Clinic serving as public defender for several Western Washington tribes. Judge Whitener taught various courses in the fields of Indian law, mental health law and criminal law and was named Order of the Coif and Order of Barristers for his work in law and his experience as a courtroom advocate. He received funding from the MacArthur Foundation to implement culturally-informed projects in tribal juvenile justice in the areas of indigent juvenile defense and mental health issues. In 2009, he was named the Association of American Law School's "Shanara Gilbert Emerging Clinician of the Year" and in 2011 he was named a "White House Champion of Change" by President Barack Obama for his advocacy for Native American clients. In May of 2014, Judge Whitener left the University of Washington to join the Tulalip Tribal Court.
Tulalip Tribal Court Associate Judge Remy S. Leonard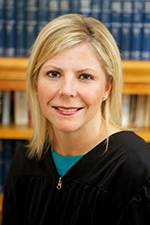 Remy S. Leonard is an Associate Judge of the Tulalip Tribal Court. Judge Leonard was born and raised in Everett, Washington. She received her BA in political science from Washington State University in 1993, and her JD from the University of Oregon School of law in 1997. After law school Judge Leonard joined the Snohomish County Prosecuting Attorney's Office, and served as a criminal Deputy Prosecuting Attorney from 1997-2003. While at the prosecutor's office, Judge Leonard handled hundreds of criminal cases in both District and Superior Court, including the juvenile court SAU and felony domestic violence units. In 2004, after a short time in private civil practice, Judge Leonard began teaching criminal law and procedure classes at Everett Community College, and business law in the EvCC/Tulalip Tribal entrepreneurship program. She also served as an Adjunct Professor of political science courses at Trinity Lutheran College, and continues her work instructing both undergraduate law and MBA classes at Columbia College. Since 2013, Judge Leonard has served as a Judge pro tem in Snohomish County District Court, Bothell, Edmonds, Marysville, and Monroe Municipal Courts. She began serving as a Judge pro tem in Tulalip Tribal Court in October 2015, joined Tulalip Tribal Court as a part-time Associate Judge in February 2016.
Tulalip Tribal Court Associate Judge Leona Colegrove
Judge Leona Colegrove is a Juris Doctorate graduate of the University of Washington School of Law and has a Concentration in Alternative Dispute Resolution. In addition to sitting at Tulalip she is also an Associate Judge for her own Tribe in Hoopa California and the Chief Judge for both the Quileute Tribe and the Round Valley Tribe in northern California. Judge Colegrove is an enrolled member of the Hoopa Tribe and also a descendant of the Quinault Tribe. She has been practicing law since 2000 and began her judicial work in both Tribal and State Court in 2006. She has extensive experience hearing child welfare and family law matters. In addition to her judicial work, Judge Colegrove is an active attorney and has litigated Indian child welfare proceedings in both Tribal and State Court. Judge Colegrove has written articles on Title IV-E and other topics that she believes may assist Tribes in protecting and providing services to Indian children in the foster care system. She was the first Indian Judge to sit on the Washington State Supreme Court Commission on Children in Foster Care. She currently sits on the Washington State Tribal Court Judges Association Governing Board as well as the National American Indian Court Judges Associations Executive Board. She is the Director of the Nisqually Tribe's Legal Office.
Tulalip Tribal Court Associate Judge Janine B. Van Dusen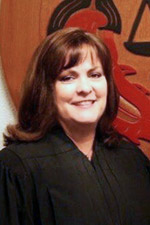 Janine B. Van Dusen is an Associate Judge of the Tulalip Tribal Court. Judge Van Dusen was born in Tulsa, Oklahoma and is an enrolled citizen of the Cherokee Nation. She received her Bachelor of Science in information studies and communication from Florida State University, Tallahassee, FL in 2002, and her JD from the Florida A & M University College of Law, Orlando, Florida in 2007. While in law school she concentrated on Indian Law and Indian Child Welfare Issues. After law school Judge Van Dusen joined a law firm in Orlando, Florida, and subsequently opened her own private law firm in 2008. She has served as an attorney guardian ad litem for the Eighteenth Judicial Circuit Court, Viera Florida, and is a member of the U.S. District Court – Middle District of Florida. Her practice focused on family law, juvenile dependency, and estate planning and was in business until 2012 when at that time she and her family moved back to Washington State. She has handled hundreds of civil and criminal cases representing clients in state, federal and tribal courts in both Florida and Washington State. Judge Van Dusen joined the Tulalip Tribal Court in 2012. While at the Tulalip Tribal Court Judge Van Dusen served as the Court Administrator, Pro Se Judicial Facilitator, and the Domestic Violence Victim's Advocate Attorney with Tulalip Civil Legal Aid Office (TOCLA). Judge Van Dusen was the managing attorney for TOCLA from 2015 – 2017. She also served as an Adjunct Professor at Northwest Indian College Tulalip Campus teaching Cultural Sovereignty, and was a member of the Florida Justice Teaching task force at local schools.
Judge Van Dusen has membership in the following organizations: National Native American Bar Association; Northwest Indian Bar Association; National American Indian Court Judges Association (NAICJA); National Council of Juvenile and Family Court Judges; as well as the Tulalip Tribes' Law and Justice Committee. Since 2014, Judge Van Dusen has been appointed as a Judge pro tem in several tribal courts and began serving as a Judge pro tem in Tulalip Tribal Court in September 2015.