As the Chief of Police, I welcome you to the Tulalip Tribes Police Department website. This website will soon have a fresh new look that will provide easier access to information about our services.
The Tulalip Tribes Police Department is a full-service law enforcement agency. The Department is staffed by dedicated men and women who are committed to providing exceptional law enforcement service. The Tulalip Tribes Police Department is committed to working in partnership with the community to solve problems and reduce crime. Our officers and staff take great pride in serving the Tulalip Tribes and community members and we place our highest priority on providing fair, objective, equitable police services while honoring and respecting the culture, traditions and values of the Tulalip people.
Services of the Tulalip Tribes Police Department include Patrol, Investigations, Fish and Wildlife, Communications-Records, Drug Task Force, Emergency Response Team, School Resource Officer, Community Outreach, Sex Offender Monitoring, Evidence, Training and Administration.
We welcome your feedback and suggestions. Please do not hesitate to call or email us if I or any member of our staff can be of assistance to you.
Sincerely,
Chris Sutter
Chief of Police
Tulalip Tribes Police Department
Chief Chris E. Sutter
Chief of Police
Tulalip Tribes Police Department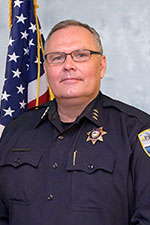 Chief Chris Sutter was administered the oath of office as the Tulalip Tribes Chief of Police by the Tulalip Tribes Chairwoman Marie Zackuse on September 24, 2018. Chief Sutter's career in law enforcement began in 1986. He came to Tulalip Tribes after serving as the Assistant Chief of Police for the City of Vancouver, Washington where he served for over 26 years. Chief Sutter brings extensive experience in leading complex law enforcement operations and programs including patrol, investigations, special operations, administration, professional standards, finance and logistics, and leading multiple regional task forces.
Chief Sutter has a strong personal commitment to integrating community policing and community outreach to proactively reduce crime and solve problems. The Tulalip Tribes Police Department places an emphasis on building trust and providing open lines of communication with the community while providing exceptional service to meet the needs and priorities of the Tulalip Tribes and its members. Chief Sutter is committed to upholding and protecting the Tulalip Tribes sovereignty and treaty rights.
Chief Sutter holds a bachelor's degree in Business Administration from California State University - Bakersfield. He is also a graduate of the Public Safety Leadership Development Program Command College from the Mark O. Hatfield School of Government at Portland State University, a graduate from the Northwest Law Enforcement Executive Command College, a graduate of the School of Police Staff and Command at Northwestern University Center for Public Safety, a graduate from the FBI Law Enforcement Executive Development Seminar, and a graduate from the Senior Management Institute for Police at the Police Executive Research Forum.
Chief Sutter and his wife, Sue Tso Sutter (Dine-Navajo), are the parents of four children. The Sutter family enjoys spending time together, gardening, outdoor activities, fishing, visiting family and friends on the Navajo Reservation, and attending tribal gatherings and events.